The organization of a day as special as that of the Wedding requires a lot of attention and care.
At La Rondanina nothing is left to chance: everything is taken care of in detail by our staff who will advise the spouses on the best way to organize the event.
We offer agreements with services for floral arrangements and decorations, invitations, musical entertainment, party favors, highly qualified photographic services.
It is also possible to book rooms for guests staying overnight. To complete the package we offer for free to our spouses the night in a suite where to spend the first night of wedding in complete relaxation.
La Rondanina, ideal location for outdoor weddings
Thanks to the collaboration with the Municipality of Alseno it is possible to celebrate one's wedding with a civil ceremony directly in our Location.
Strengthened by the experience gained over the years, the attention reserved by the prepared staff and, last but not least, the enchanting green space available to spouses and guests, La Rondanina proves to be a perfect and ideal location for outdoor weddings.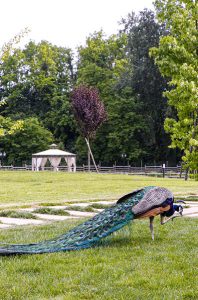 The civil marriage ceremony
If the desire of the spouses is to seal the union with a civil marriage, Rondanina is available to organize the ceremony in every smallest detail.
The civil marriage ceremony involves a ceremony that is usually shorter than that of church marriage: following the mutual promises made to each other by the spouses and readings, the wedding ring is exchanged and the greeting is set aside. of the municipal authority which, invested with these powers, celebrated the ceremony.
Although simpler and faster, the ceremony with civil ceremony still requires the respect of some indispensable requirements, such as for example the presence of two adult witnesses and the posting of publications.
What is the capacity of the structure?
The internal capacity ranges from 40 to 200 guests (in a single room maximum 160).
Is it possible to celebrate the civil ceremony in the villa or outdoors?
Yes, it is possible to celebrate the civil ceremony indoors or in the outdoor park.
How many parking spaces are available in the parking lot?
La Rondanina has parking for 130 cars.
Where is Rondanina located?
La Rondanina is 10 km from Fidenza and Fiorenzuola, both exits of the A1 motorway.
How big is the park?
The park has a size of 2 hectares.
Will the available spaces be exclusive?
Yes, we grant exclusivity for just one event per day.