Agriturismo La Rondanina offers its sales for meetings, meetings, conferences, meetings and conferences for companies, the organization, universities and research centers.
A professional and attentive service will take care of every detail of your event: from the setting up to the coffee break, to the catering, to the hospitality. Available for your meetings and congresses, latest generation projectors and high-speed Wi-Fi connectivity.
La Rondanina, ideal location for meetings and conferences
From the corporate meeting, created ad hoc, thanks to the two spacious and bright conference rooms that can accommodate up to 120 participants, to private ceremonies for the celebration of Catholic rites or other religious beliefs.
Each event will be treated and customized in the smallest details. It is also possible to reserve the entire Agriturismo exclusively, including 10 rooms, 3 suites and all facilities within the structure.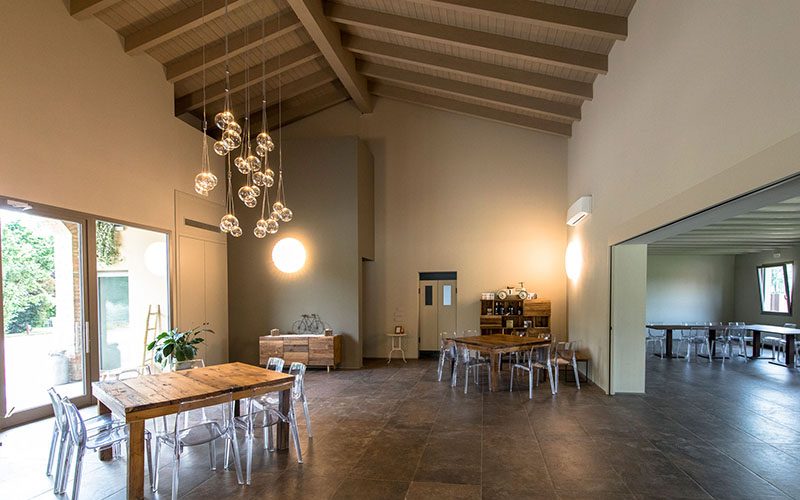 All the technologies at your service
All the meeting rooms are equipped with the most advanced audio and video technologies and have a Wi-Fi IT service available to participants for meetings throughout their duration. La Rondanina offers a large air-conditioned or heated indoor room for up to XX people, a smaller one from YY and a charming garden for more than 100 guests.
From the inner hall through a large window door leads directly to the garden thus creating a single solution. All environments are free of architectural barriers.
The kitchen offers traditional Piacenza dishes and creative recipes with attention to the passing of the seasons.
Available services:
beamer

microphone

flipchart

Wifi

Bar for coffee breaks and breakfasts.
What is the capacity of the structure?
The internal capacity ranges from 40 to 200 guests (in a single room maximum 160).
Is it possible to celebrate the civil ceremony in the villa or outdoors?
Yes, it is possible to celebrate the civil ceremony indoors or in the outdoor park.
How many parking spaces are available in the parking lot?
La Rondanina has parking for 130 cars.
Where is Rondanina located?
La Rondanina is 10 km from Fidenza and Fiorenzuola, both exits of the A1 motorway.
How big is the park?
The park has a size of 2 hectares.
Will the available spaces be exclusive?
Yes, we grant exclusivity for just one event per day.